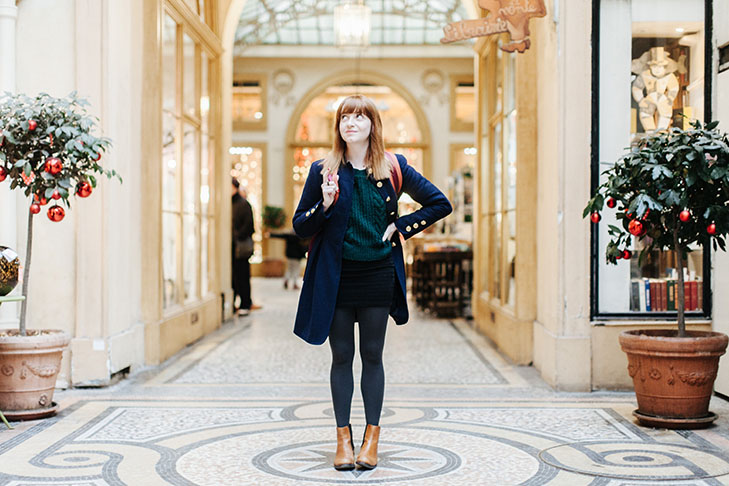 I presented you my uniform of summer here, in my quest for simplicity I had opted for a black miniskirt textured and super T-shirts.
The winter version is somewhat the same but with a few more layers : tights, a Dalton, a short jumper and a coat. And it's cool because it just to change the level of heat of these small layers.
I think also that the tights should be sold a bit like camping duvets : pantyhose 12 °, 0°, -10°. I also started to store like this in my drawers : a box increments : less than 15 °, less than 8 °, 0°. Same for the damarts that they are sold like this (force 1, 2, 3 and 4) and for the sweaters I did bluntly 2 drawers.
Like that head taking the morning is minimal, I take my base : underwear + Black miniskirt (that works for all seasons) to which I add sticky + damart + pull to the right temperature.
Same for my coats that were arranged by color, I sorted them by cold hardiness : cotton ⎢melange synthetic + ugly Laine⎢Laine⎢doudoune feather he made cold mother. And I keep a small relief uniqlo jacket in my bag to the case or.
I bought a lot of short sweaters : Polar dual hooded American Apparel (DOUBLE POLAR AKA LIFE !! (I even made a stock where the mark disappears)) and super pretty sweaters (but acrylic arf) Urban Outfitters.
Suddenly I'm not a great creativity to dress me everyday, But anyway I have not the time right now, I reserve the moments of research of different looks for the weekend or evening if I have time ^^