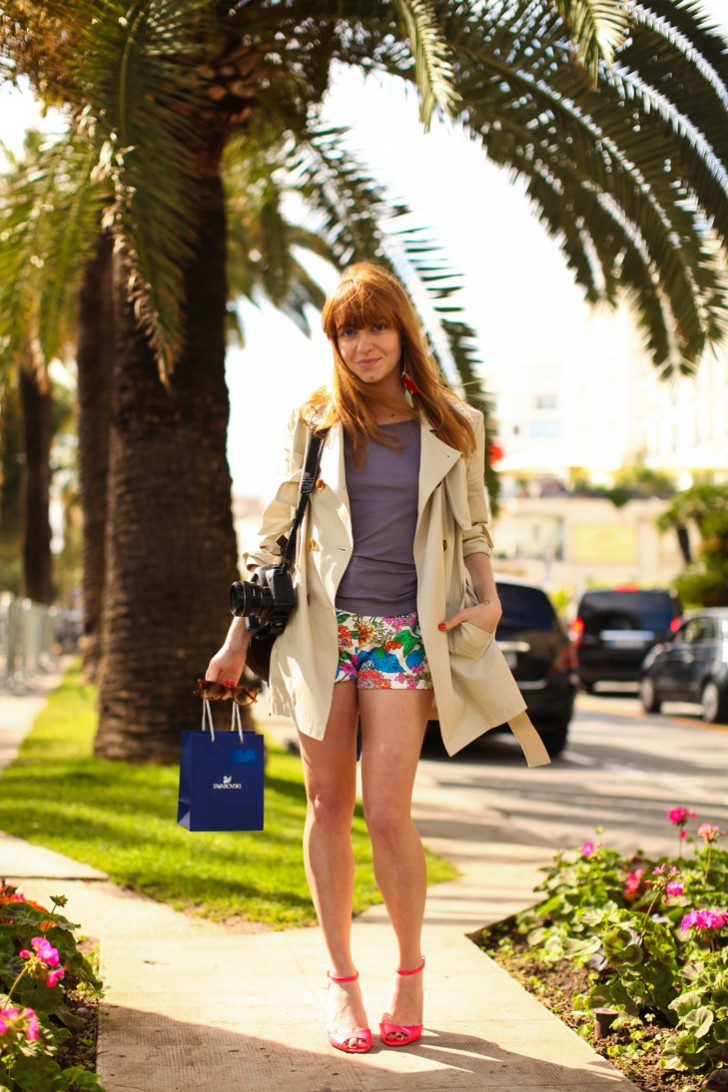 I am soooo late in my report Cannes… I thought I do it at least before the delivery of the prize, but I & rsquo; was too busy mongoliser Moonrise Kingdom on images while listening to the soundtrack background balloons home.
Yet j & rsquo; have lots of cool stuff to tell about the festival spent in the rain (I cheat on photos, c & rsquo; was the 2 last hours) while I n & rsquo; & rsquo had that; a suitcase full of little summer dresses and sandals. Woman VS Wild ! Fight !
I landed in Nice after a short journey from the Tuscan (yes i n & rsquo; have not an easy life). I never put too much nose in the south and having spent my childhood rage against the coast d & rsquo; n & rsquo azure, big suns that had blossomed on the map d & rsquo; Evelyne Deliah, j & rsquo; imagined that the rain there was nonexistent. Or 2 minutes time d & rsquo; gently sprinkle salads.
So I arrived in Cannes, hair dripping and not fresh ballerina. I already saw me open the door by repositioning my sunglasses on my nose like a star more beautiful life, c & rsquo; was a great moment désanchanté (everything is KO).
But the rain was a consequence rather friendly : we went to see lots of films at Palace, and it c & rsquo; was cool. I would not say that I & rsquo; loved everything, but I & rsquo; had some fun surprises.
Especially short films of & rsquo; adami and the pool of young talents. Certainly the best moments in a dark room during the festival.
And, as I told you, j & rsquo;'ve climbed the stairs one night to see "like someone in Love". And c & rsquo; was very funny (not the movie).
Car mount these stairs, c & rsquo; just mount actually steps. Except that & rsquo; there is a large red carpet and full of photographers. Awaiting the & rsquo; film crew and the real stars, therefore they nobodies s & rsquo; in bump (normal). J & rsquo; so was a little intimidated for nothing, j & rsquo; have mounted ten small steps looking my feet not to beat me up (although again, everyone s & rsquo; beat in race).
But it & rsquo; was funny, a little like crossing the & rsquo; screen and see this place that & rsquo; every year we look on Canal +.
So, the film was boring to death (or rather for me, sleeping with open mouth), I'm never a big fan of films in competition at the festival anyway (yes j & rsquo; have in Haneke and his fucking horror stills on non scenes & rsquo; outside).
But it was worth it just for these 2 minutes in the spotlight, after spending 2 days in the rain.
Another big thank you to the & rsquo; Schweppes team for the invitation, the program with onions, their kindness and cool evenings at the villa (especially Kavinsky evening ♥).
Edit : oh yes j & rsquo; forgot, j & rsquo; took out my light dress l & rsquo; last year for the red carpet (boouuuuuuuh !)