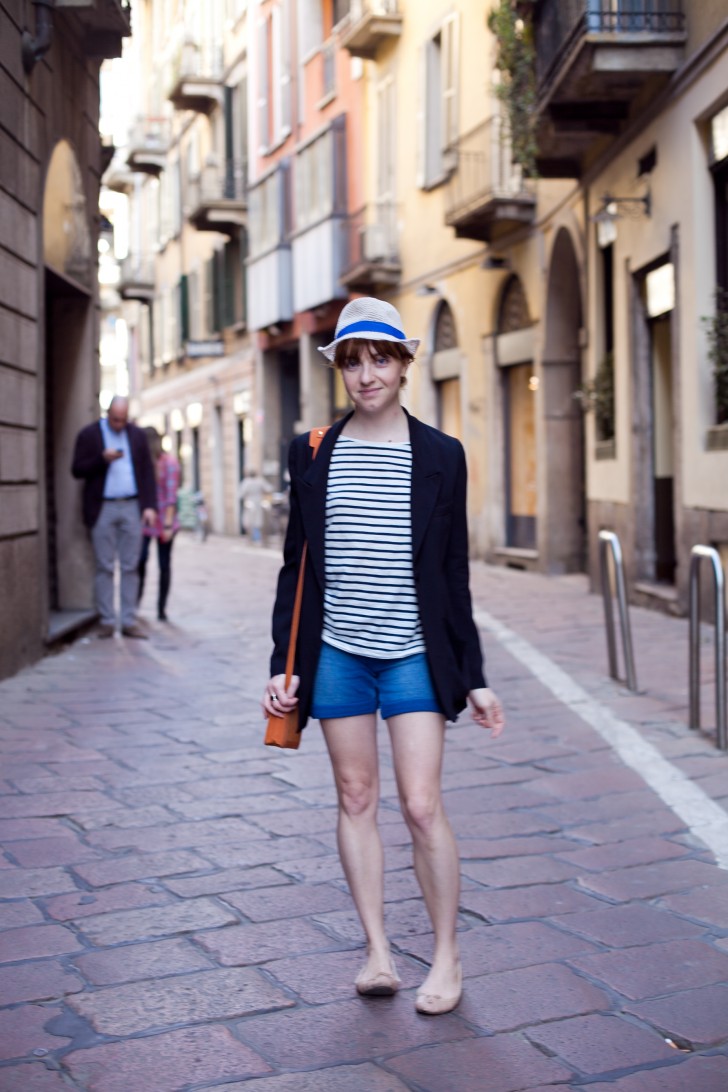 Short, jacket and hat Stefanel, Monoprix sailor, sac my suelly, ballerines Topshop, bags under eyes 3hoursleep
Resuming my little Milanese adventure :) I have so many pictures to sort and stuff to tell you that I have just dragged.
J & rsquo; was invited to the base by brand Stefanel – I did not know I & rsquo; admit – for a lunch on site and a tour of the shop. The prospect of taking the & rsquo; plane just for lunch in Italy m & rsquo; wildly amused (a bit like when Pete Becker takes Monica dinner in a small pizzeria in Rome), j & rsquo; therefore I said yes.
On the spot I confess not too too m & rsquo; be felt in my element, surrounded by true fashionistas, Italian and Spanish bloggers dressed divas like goddesses (j & rsquo; had jeans and a smock, French Power).
But this kind of m & rsquo situation amuses, j & rsquo; always have the & rsquo; d & rsquo impression be an impostor. And the contrast is great fun, morning d & rsquo; was badly awoken at 7am on the platform of the RER B to Gare du Nord and found myself at 13h a glass of champagne in hand on the terrace of the Hyatt Park in sunny Milan to expound on a autumn winter collection. My life is funny, j & rsquo; in benefits 1000%
After lunch, Stefanel took the team all pretty world in his shop Vittorio Emanuelle II Gallery (god this place is gorgeous). Et là, like this, gift : Take everything you like to compose a look of you from head to toe. I think I & rsquo; have always dreamed that & rsquo; being told that someday – j & rsquo; tried to keep a capacity to face visibly customary Italian because almost blasé – but inwardly I was doing little somersaults.
I remember & rsquo; an issue that I & rsquo; saw when I & rsquo; was a kid : 3 people were released into a supermarket with 10.000 francs and had to spend it all in hair cell 10 minutes. They all panicked and lost. I m & rsquo; had always wondered how I would react if I & rsquo; mode was dropped everything is allowed in a clothing store. And much to my disappointment it's great sage. C & rsquo; was fun to see how it all consisted of very different looks (I j & rsquo; the girl was borring with its minimal look beside girls in fluorescent orange heels).
At the risk of & rsquo; to displease some, j & rsquo; have played the game thoroughly and came away packets loaded arm like a child a Christmas morning. There are days when we princess lives…