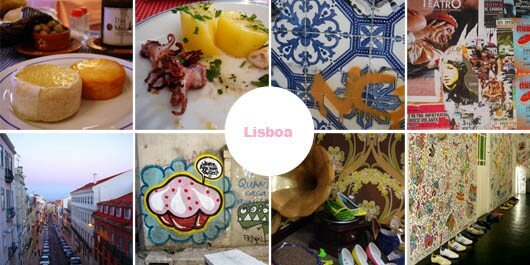 You will say that I n & rsquo; not have a great imagination for travel, knowing that threw party in Lisbon in April l & rsquo; last year (for my older drives). In fact this city m & rsquo; was so enchanted that I & rsquo; d have wanted & rsquo; back with my boyfriend to make him discover. J & rsquo; had a lot of fun to stroll me in Bairro Alto, day and night, for shopping and also a drink in the street. The kitchen m & rsquo; had also rained beaucopu : plenty of fish, shells, piggy (pork "noir", divine, and the legendary pork in & rsquo; alentejana), of potatoes, d & rsquo; d & rsquo oil; olive and cheese, and also good wines and spirits Portuguese (it ginja, alcohol cherries, deliciously sweet) and finally the Pasteis de Belem worth all the good that & rsquo; it says.
J & rsquo; have therefore spent a few days in Lisbon with my man, in a lovely little apartment located in the district of Lapa, rented on ce site, I recommend to anyone looking to spend a sweet moment in Lisbon hotel without going through the box (this n & rsquo; is not very expensive, the apartments are very cool, and there is an excellent communication with the site responsible). C & rsquo; is still something else, getting up in the morning to buy fresh bread, some pastries and some cheese, to be enjoyed on its terrace as if you were part of the decor.
J & rsquo; m not admit & rsquo; violence be made for visits, s it & rsquo; is content to do what we said from day to day : a ride in & rsquo; alfama, Belem, au Bairro Alto. J & rsquo; had spotted a few places to go for a ride that seemed very nice (at different locations : this blog, this other blog, Madame Figaro article). For shopping, a lot of shops in the Bairro Alto : j & rsquo; loved sneakers delight shops and Happy days (North Street). Further, in Baixa, le concept store Mousse, a kind of Colette Portuguese (
Rua das Flores, 41-43.), and finally all the little shops near the train station santa apolonia (whose delidelux, good sort of mini Portuguese market). For a drink, the Chapitô (Costa do Castelo, 1-7) near the Sao Jorge castle is one of the most beautiful places, not a tourist grabs, that & rsquo; they serve is delicious, l & rsquo; is soft atmosphere and fantastic views. For tea, Chinese Pavilion (Rua D. Pedro V, No. 89 ) it's very good, for both eyes (this place is a huge collection & rsquo; objects of all kinds) as for the taste buds : j & rsquo; there was drinking tea with delicious cherry blossoms.
For restaurants, had especially want to eat Portuguese, there are quite a few great eateries in the Bairro Alto, our favorite little canteen having been : the corner of Gaveas (Gáveas street, 82) where we ate black pig, des tellines, succulent and accompanied by very good wine octopus, a good address.
After Lisbon, we stayed in the south with friends, by making a very nice detour through the Portuguese coast, towards a small house in a quiet countryside and the sea where we had the & rsquo; the best opportunity to eat sardines in our lives, chorizo ​​barbecue, drank delicious caipirinha and that & rsquo; a strange sangria which only the Portuguese have the secret, and saw some very pretty beaches. All with a Portuguese friend who showed us his country with great pleasure to share, c & rsquo; was perfect !
C & rsquo; is really a beautiful country, the people are very welcoming and there really means to be understood when speaking English (not like in Spain…). Only problem still, l & rsquo; scam ! When you do not speak Portuguese one is quickly a nice target, it happened quite often that & rsquo; it is hard to make us money (like missing 50 cent, 4 euros…) and we were a dirty blow to the & rsquo; hotel that I & rsquo; booked last night. Bel hotel, 4 star, for a super attractive price unearthed on lastminute : but when you get, without deigning to explain why, reception told us that & rsquo; it will call a taxi to take us to another hotel… hein ? J & rsquo; have had beautiful bitch and say that & rsquo; n & rsquo it; going anywhere, it m & rsquo; said without much conviction that & rsquo; there was a sewer problem and that & rsquo; she could not rent us our room (that I & rsquo; had prepaid months ago…). This was of course a dirty excuse, I l & rsquo; many had heard of lastminute Portuguese, and the problem was staying there rather than in a pipeline explosion… So distrust for French small (who are legion in Portugal !) who are doing that & rsquo; English.
The next time (and there will be a, j & rsquo; love this country), I will test all the good addresses you m & rsquo; have left and I & rsquo; d & rsquo finally try; go spend a night in lux fragil…
J & rsquo; hope this made you want d & rsquo; it out. J Personal & rsquo; took a lot of fun to see where each and the others had spent their holidays, surtout Alix that m & rsquo; squarely with dream his trip to bali..