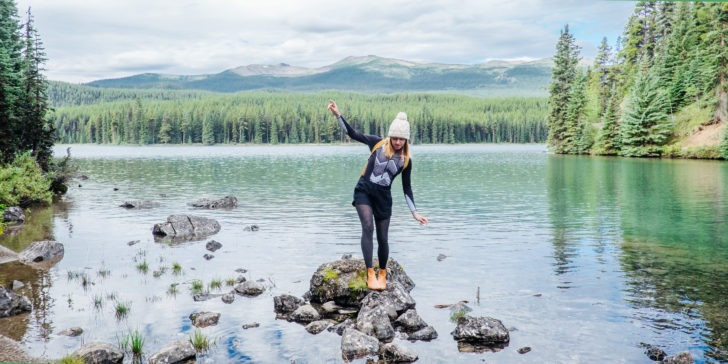 During the holidays I made a change a little special level Beach and swimming : Porter a combination of surf. I could not choose best timing this summer 2016 you don & rsquo; no idea !
I'm a big chilly, the girl no fun that doesn't want to go messing in the water if it is close to barely 20 °, and that screams when we splashes it into the pool. And when I let myself be tempted, I'm shivering at the end of 5 minutes and I get out of the water, shuddering.
I me am so not bad private swimming almost always so.
And then l & rsquo; last year, like this for messing around and make fun of me as a little, My sister told me : You should bathe in surf combi. J & rsquo; did "gna gna gna" and I think more about it until this summer where I thought it would be not so bad for the Canada.
So, It is as if it was stupid because the water of the lakes we saw in Alberta were not far from being frozen : 3 or (4) brrr so not even in dream I was putting a toe.
But not bad I wore this neoprene suit because I thought it was so cool and it kept me warm. I kept a passion of the gym body just (I am seriously considering to buy me) the distant time when I did the GRS and where I was looking all Gym competitions on TV with passion. And this combi almost gave me the feeling to wear one just to the body.
And, back in France, I went to spend a few days near Bordeaux at my dad, with my sister, little fish that swim whatever the temperature of the water. And for the first time in years I went catch waves in the face on a beach at Lacanau through my suit that protected me from the cold.
I'll spare you the stunned looks of the people watching me bathe in combi (where's the Board ? What's doing in combi water ?) in full news burkini. Great timing I warned you at the beginning of article. I was super happy to finally go back bathe cursing me to have not thought of that earlier. And then I hate to burn in the Sun that I had a good half of the body protected without me spread the back of cream yay !
Voilà, This summer has been a revelation and to the cold like me I would recommend, ridicule in combi without Board at the water's edge or not ^^
I also want to show you these pictures of Maligne Lake I forgot in my article on the Canada ;)