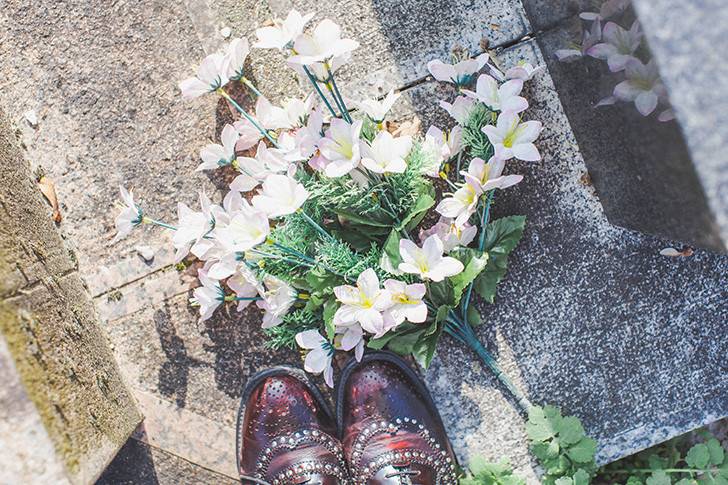 And well here, After the euphoria and the satisfaction of having released a big project that monopolized my mind lately, and a weekend of rest, This is the pressure drops and I am very sad. The fault of a few pictures from a workshop that is empty on instagram, a jar of jam in the refrigerator, a small object broken…
Oh I started mulling all this with spring, This spring is the first this year where I did not take my phone to call my grand father and wish him his birthday. This small phone call that lasted 5 minutes only because it is not very phone in the family and that had always seemed me almost unnecessary…
I lost my grandfather last year, and this is the first time in my life that I was losing a loved one. May be I should feel lucky to have waited 34 years to ensure that it happens ?
It had changed in recent years, annoyed and a little tired by the disease, It was no longer the same. But it was always there, as a rock, each time surviving the most dangerous operations that doctors described us tirelessly as very risky. It became invincible in my eyes to cross everything standing remaining whatever happens.
And, I've almost always known him a little sick. When I was little it much cared for me while he was recovering from his heart attack (him and my grand mother were my nannies, I went there every day when my mother was working). He read me stories, He taught me to read the time, and colors (I don't count the number of times where I stored my boxes of crayons with passion in my life after that).
It was the strong man of the family (I know what Judo Dan, but very high kind), the Carpenter who knew how to make lots of things in his workshop, one who repaired watches pulling the language of concentration (I stung him it), who knew picking up any object with dozens of magic glue of her closet. It was also the specialist of the moussaka and white currant jam.
It was also the lead singer of the family coming out his guitar for any occasion. With my sister was small connes to bitching when it was necessary to sing at Christmas, as if it was the worst chore of the Earth. He had even recorded his own album "Oh let me cry" When he was young, I remember having listened it to several times in the imagining in a studio like Elvis when I was a kid.
I can still hear his voice in my head sing me "a sweet song" to fall asleep, I like the ironing board me there up from time to time and realize that I have not forgotten it. Dorcus parallelipipedus is hard-pressed in the Woods hides the Wolf, houhouhouhou…
Oh: all was not rosy, We were too different generations to agree on a whole bunch of social issues and it was almost impossible sometimes to understand but we liked anyway.
The hardest thing is these moments where the mind forgets, When I break a plate and that I want to call him to ask him how the picking up or that I use this old screwdriver that I stole in his workshop and I tell myself that it would be that I make him. Or when his ghost hovers a little somewhere, I meet his guitar in a corner of a room at my grand mother, or that I find the last pot of jam of its manufacture at the bottom of my fridge white currant.
I did the strong when he is gone and I cried a little for him, and yet I remain inconsolable.
I know that I have not accustomed you to this type of articles, but I wanted to write everything here still.
.