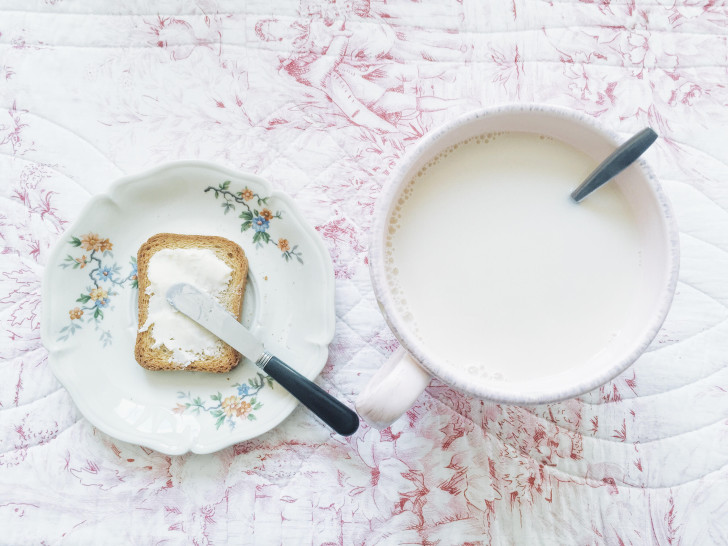 Tea with milk rusks <3
This weekend I spent 3 days at the seaside, in the lovely family house of my friend Anne-Solange (who writes the sweetest blogs in the world, and which will propose very soon a great to become the Queen of instagram method, do not miss it).
It was a very long time that I had not taken a few days for me. I am the type to say "Hashmi Sunday I have nothing screwed up !" and that one looks at me with round eyes (kind who is this crazy ?) before you answer me "It's the principle of the non-Sunday ?", I still live at bottom, I want to do a thousand things all the time, return a maximum of projects in my use of time because I am enthusiastic.
Then these three days of sweetness, slow, from "There is almost nothing at all" themselves are stretched with delight and I have the feeling of having spent a week in this small house.
We did a couple of meals, but most of the time each was looking for a piece of bread, butter and a bit of cucumber (It has still managed to eat non-stop all day like that). Everyone stood up when he wanted, to find others to the fire trying to chat over tea : morning tea, the digestive, 5 pm tea…
We went fishing clams the first day and see the exceptional tide cover submersible road to say that there was something this weekend (and it was very nice) but in reality it has not left the salon.
I spent most of my time in a couch in pajamas to chat, with a book that I was flipping through from time to time by hand. Sometimes someone would go to the piano and sought a moment to reproduce the one and only song that I learned when I was a teen (My mom ended up send us the score and it was recopied on music paper).
Make a fire in the fireplace, read, chatting, drink tea, eating toast, do piano… I had the impression to spend a weekend of 4 daughters of Dr. March. I have even made the dippy to run to exhaustion on the beach as if I was pursued by a monster.
I realize how much I need those little things. J & rsquo; grew up in the countryside, in houses and small apartments, but always on the edge of the forest. Nothing put me more in joy as on Sundays to go to forest, in the rain, It ran everywhere and after it was dry with a hot chocolate by the fireplace. I do not know why I voluntarily deprives me of everything for years.
A want to do too much I away from the essential…