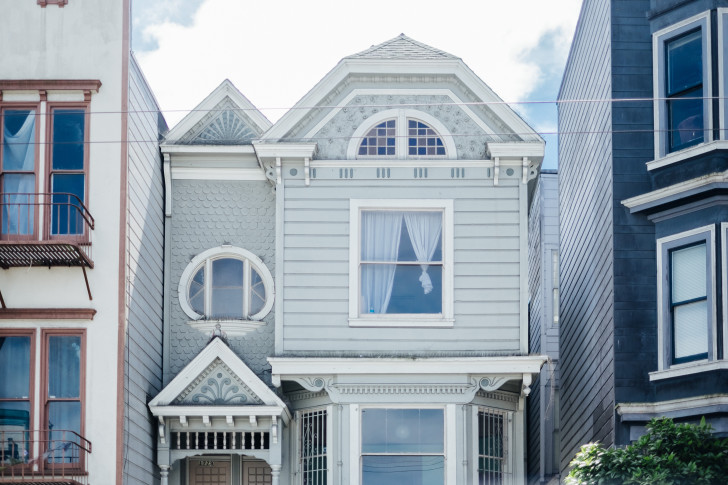 The pretty houses of San Francisco <3
If you follow me on Instagram, snapchat or twitter (Yes I am very talkative :D) you already know, I'm in San Francisco since Monday and it is full of happiness for me !
I had loved My first trip there, even if I had the impression to see so little in so little time ! I was eager to see the city differently, then when I received mail from airbnb who invited me to his hometown attending one of its event I did not hesitate long.
I am user of airbnb for ages, I even rented my apartment to strangers during a time when I was leaving on a trip. Travel where I always roused an airbnb apartment because that is how I like to travel, I has more great addresses where I've been : to Lisbonne (apartment with shower on the roof of the building), London (apartment in the building where lived Bowie), Big Sur (the most beautiful cabin vacations that I have ever seen) The Angels (in the apartment where lived Jim Morisson, in Venice beach), Tokyo (in brilliant Koreans which have saved us life), in Tuscany in the cutest town of the world.
I really like to travel like that when I have time to prepare things. I've always had in horror tour with the same people we come across, This impression of having taken Paris with itself, do the same things as everyone else, totally fly over the city. Trip me I like to go ask me in a coffee shop reading a book, PIC fuck in a park where the real people of the city will, do my shopping as the inhabitants. I want to be part of the city. You find that it's always a little frustrating to run right to left in a city without taking time to play local not - what an afternoon ?
I have plenty of tools for travel now, I had told you During my last trip to London. City Mapper (which I can no longer pass me to Paris) for all my itineraries, Mapstr to create me my small cards to me (I will post it in my future reports on SF) and now I can count the airbnb app. They have further improved their city guides with the recommendations of the hosts of the world and the result is really nice and convenient, I will always go checker before ca (or during) a trip to fill my mapstr now.
I assure you, I only tell you this because they invited me here, If I had found rotten ca I do would have even not spoken. I had already loved their first city guide whom I had spoken to you here (their pictures are amazing).
I find the way in which they finally organized everything really nice and well fucked, We feel that there is a real ambition to live people something else, see the trip otherwise. In addition to having booked my apartment here top, I use the app since I arrived for good addresses and I did stuff really cools through the San Francisco guide.
I use all the time my iphone here to find me, search for addresses, call a uber… I realized in London that if there was an occasion where having its smartphone could really change the situation it is in travel. Then it's part of my budget now, I ordered a U.S. sim card before you go sur ce site and it's really cool, no need to look for spots wifi as an unhappy throughout the day (Here they are in mode "No wifi is the cool new" – very annoying).
So I prepared a little report of all my super visits and my advice if you want to come in this crazy town ! If you have specific questions on how I prepare my travels please feel free in the comments ;)