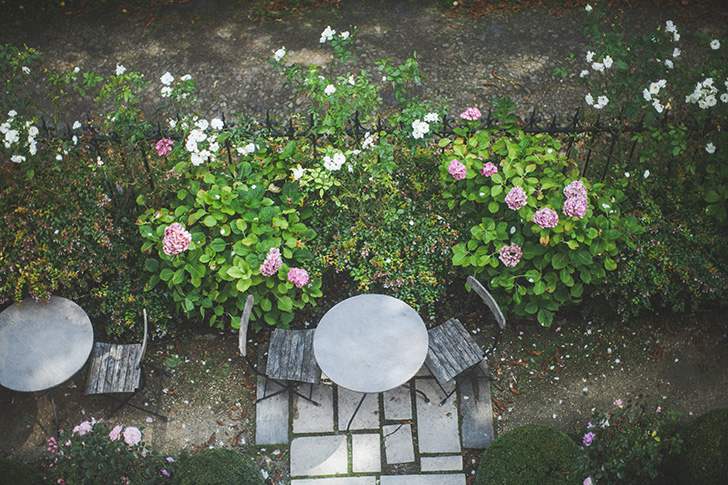 This weekend I & rsquo; did a little quiet getaway along the ponds of Corot. I don & rsquo; had been in the corner (shame on me I don & rsquo;'ve ever put a boot to rock en seine), and I felt a bit like home because c & rsquo; is very close Yvelines where I & rsquo;'ve grown.
J & rsquo; had already had the chance & rsquo; to be invited the Sources de Caudalie last year, j & rsquo; so was delighted to reiterate & rsquo; experience in their school near Paris.
J & rsquo; there have found the same pleasant sensation d & rsquo; operate in a charming place, discreet luxury but in each care taken in any tiny detail (you know those places whose & rsquo; acoustics are perfect and you do not even hear yourself walking in the corridors ?). I really feel that nothing may disturb this tiny inner peace that settles the time of stay.
J & rsquo; ate like a queen, took tea near the fountain, looking up to the sun, slept earlier than ever for me to wake up by the birds, had breakfast on my deck watching the children play on the edge of & rsquo; pond, picnic beside fucked & rsquo; an illustrious statue with all the & rsquo; paraphernalia j & rsquo; dreamed, and that & rsquo; hotel had available to me, closing his eyes d & rsquo; Marie Antoinette was almost.
J & rsquo; also got one of the best massages of my life : Hot Stone, never tested, I think c & rsquo; is what I & rsquo; d have always waited & rsquo; massage !
I went by subway watching my carriage turn into a pumpkin, but I & rsquo;'m keeping my glass slippers ;)