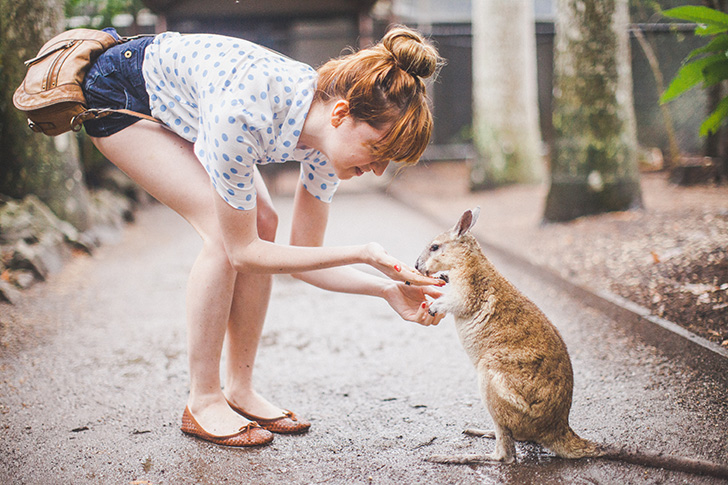 Asos shirt, short topshop, bag H&M, ballerines Topshop, walibi small d & rsquo; love <3
I think my fondest travel memories are always for pet. L & rsquo; & rsquo outbreak; a turtle nest in Kenya, dolphins came to play with us at d & rsquo; diving in Rangiroa, the tickling a baby Koala during my first trip to Australia, swim with sea turtles in Bali, see Elephants of the & rsquo; Nairobi orphanage play soccer…
Yet I hate zoos and I don & rsquo;'ll almost never, I don & rsquo; s not always like & rsquo; idea of ​​caged animals, although I know that in some cases and often, zoos involved in the conservation of a lot of & rsquo; species.
J & rsquo; always try to be careful when I travel not to fall into the trap of the promise of & rsquo; a time with animals at all costs. In Polynesia, for example j & rsquo; preferred'd avoid dolphinarium and instead try to see dolphins in their natural environment. Nothing & rsquo; guaranteed, but it's worth it to let the chance to do things.
Here in Australia c & rsquo; rather nice to see how they handle the issue. They are very trendy eco tourism (if you're interested, you can visit this site) and everything is hyper regulated. J & rsquo; therefore I loved my visit to the big park wildlife habitat à Port Douglas, wandering in the middle of birds and kangaroos.
You can take the little koala in her arms in some Australian parks, wildlife habitat Port Douglas en fait partie, c & rsquo; is super box (no more than 30 minutes per day, and not more than 2 consecutive days for each Koala) and I could not do it. J & rsquo; s quite like & rsquo; & rsquo idea that; we say no to tourists. No it n & rsquo; is currently small koalas n & rsquo; longer want.
By cons j & rsquo; spent a lot of time with kangaroos and walibis just walking around you like hot dogs. They have a super funny head, males look like donkeys, and females to small deer. C'est super bizarre…